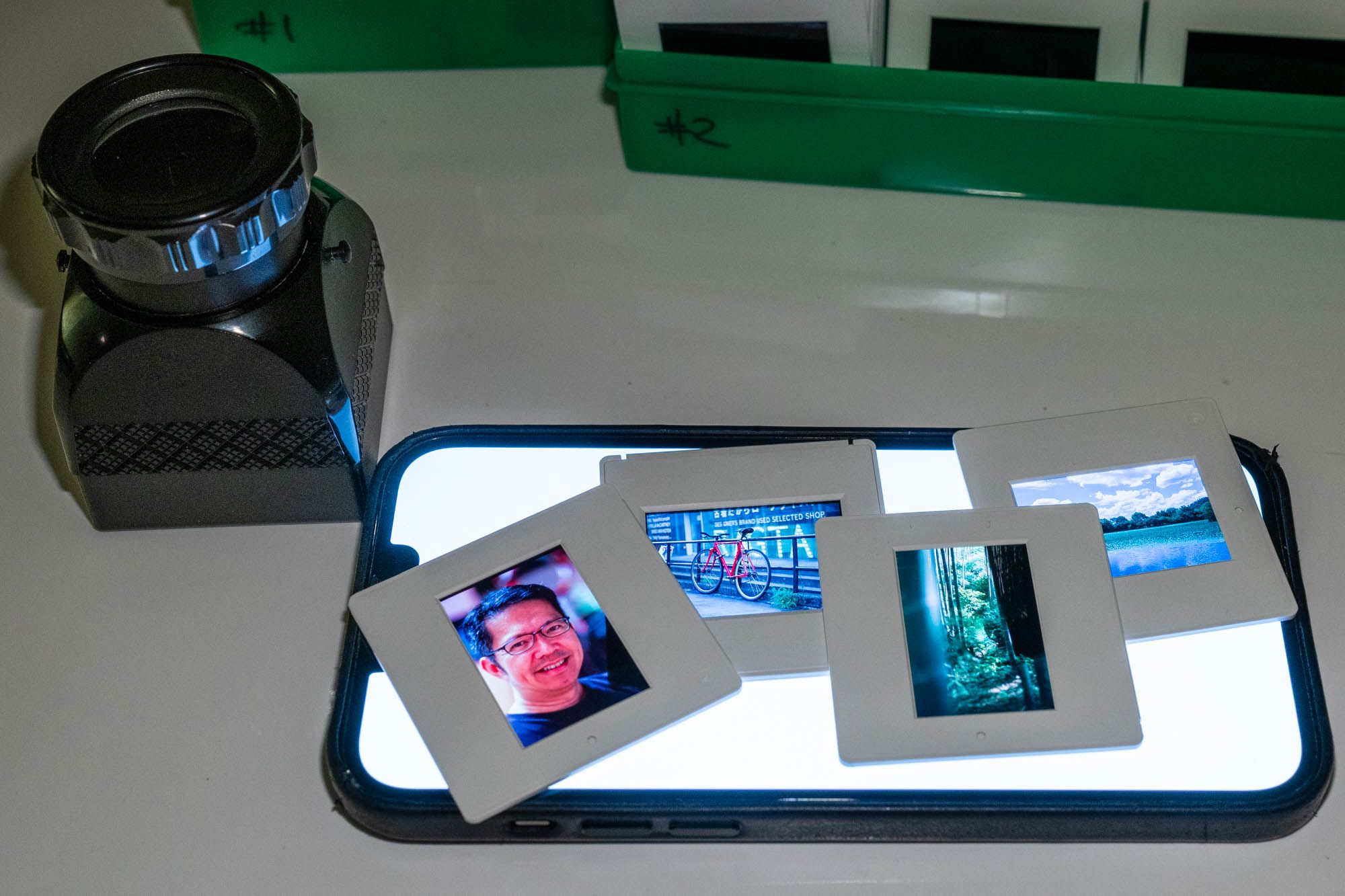 It started when I moved to Kyoto. I began noticing people carrying film cameras.
Even with all the talk of retro analog technology making a comeback, you don't see it so much in Los Angeles. In LA, film has been dead for a long time. All the pros that wax nostalgic about the days of film make their living shooting digital.
But Kyoto's culture is different. Here it's about craftsmanship, and passing on those traditional techniques that seem endangered nowadays.
A few years ago I worked at Kyotographie, Kyoto's annual international photography festival. And of course, at a photography festival you're going to have a lot of photographers touring the exhibits. So there were lots of people with serious cameras hanging off their shoulders. But what was surprising to me was that half of them seemed to be film cameras. I was shocked.
That's what sparked my interest in something I left behind 20 years before. My photography blog has been going for more than 20 years now, and the last post shot with film was in 2003.
My first digital camera was a small Casio in the late 90s that took postage stamp sized pictures of less than even one megapixel. A dozen digital cameras later I'm very happy with the Sony a7r3 I've been using since 2018. And I've gradually moved to prime lenses that don't zoom. To paraphrase Mari Kondo, I want things I use to bring me joy.
But gradually the idea of a film camera started looking attractive. I decided I needed to take a deeper look. As I researched, I realized that an investment of $1000 would get me a great 35mm film camera and a few lenses. So that's what I did this summer.
Size and especially weight are important considerations for me, so I wanted small and light. I decided on the Nikon FM3a, the final model in a series of small robust manual focus cameras Nikon made starting in the late 70s. Nikon had several film cameras in production when they shut down their ENTIRE film business in 2006. This model was in production until then, so it's one of the last film cameras Nikon made, certainly the last manual focus model. And even though it's the newest one, it's still 20 years old. The lenses are even older, 20 to 40 years old.
I went to Fujiya Camera in Nakano, Tokyo to look for this hard to find Nikon camera. I told myself, "if it feels good to me, I'll buy it."
I say that, because a couple of years earlier I took a look at a Hasselblad medium format camera – one of the most respected cameras in the world - and it was so alien to me, I could not get to any kind of comfort level in the minutes I spent playing with it.
So I went to the camera store and inquired about this FM3a model. Although it's a hard to find model they had half a dozen black camera bodies to choose from. They all looked brand new. It was amazing.
So I picked up the camera. It was small in the hand, and much lighter than expected. I was astounded. Weren't mirrorless camera supposed to be smaller because the entire mirror box viewfinder system was removed? This camera is smaller than my mirrorless Sony. And the lenses? So much smaller than my Sony lenses – and each was only $150 bucks! (my favorite Sony 35mm f/1.4 lens cost $1800!)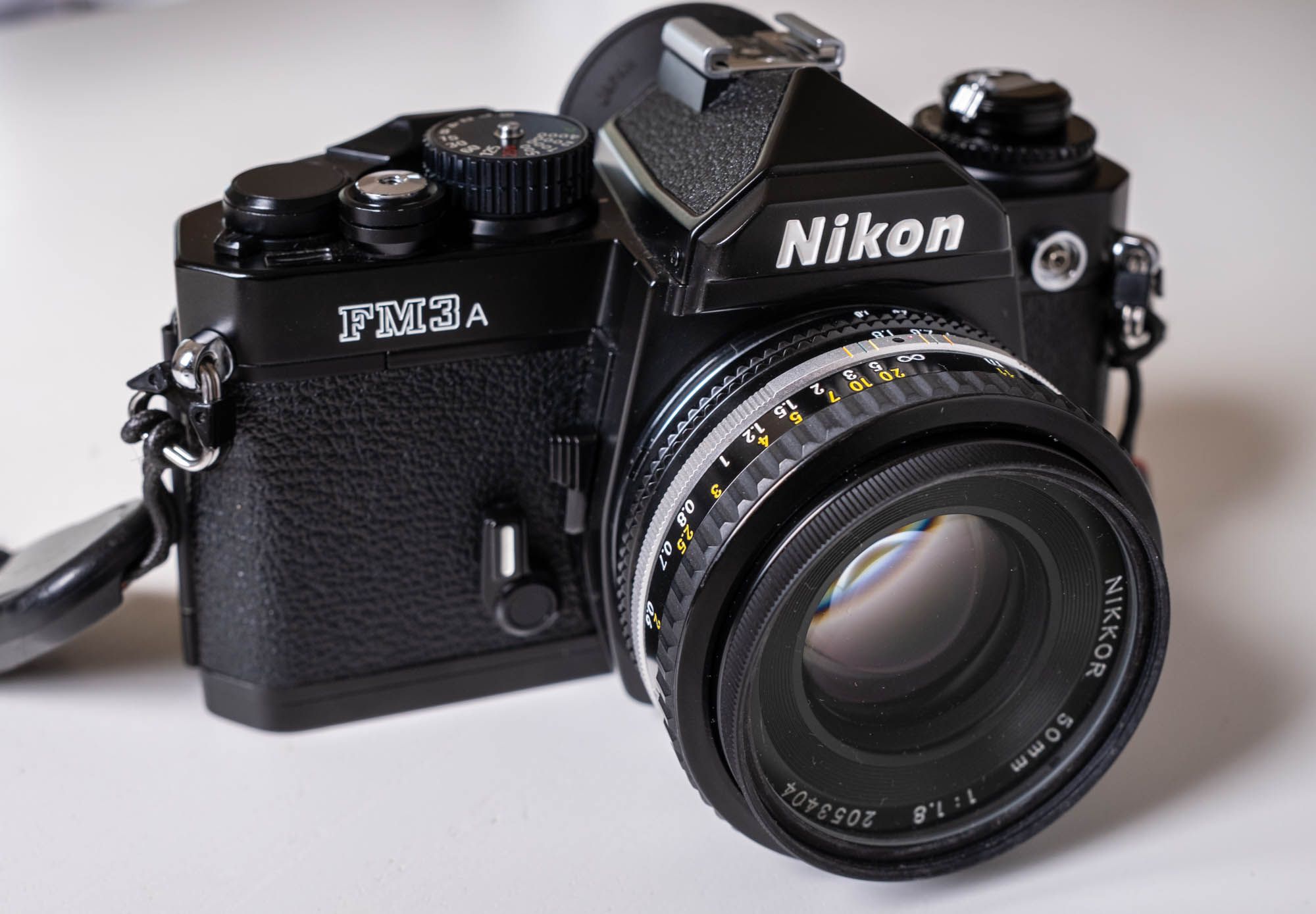 I put the viewfinder up to my eye. I momentarily forgot how those old cameras worked. But it felt good, really good in my hands. So I pulled the trigger for the camera, lenses, some Fujichrome slide film, and headed out.
35mm, 50mm, 85mm lenses and the camera body – all from the golden age of Nikon and all in practically new condition – for a bit more than a grand ($1200).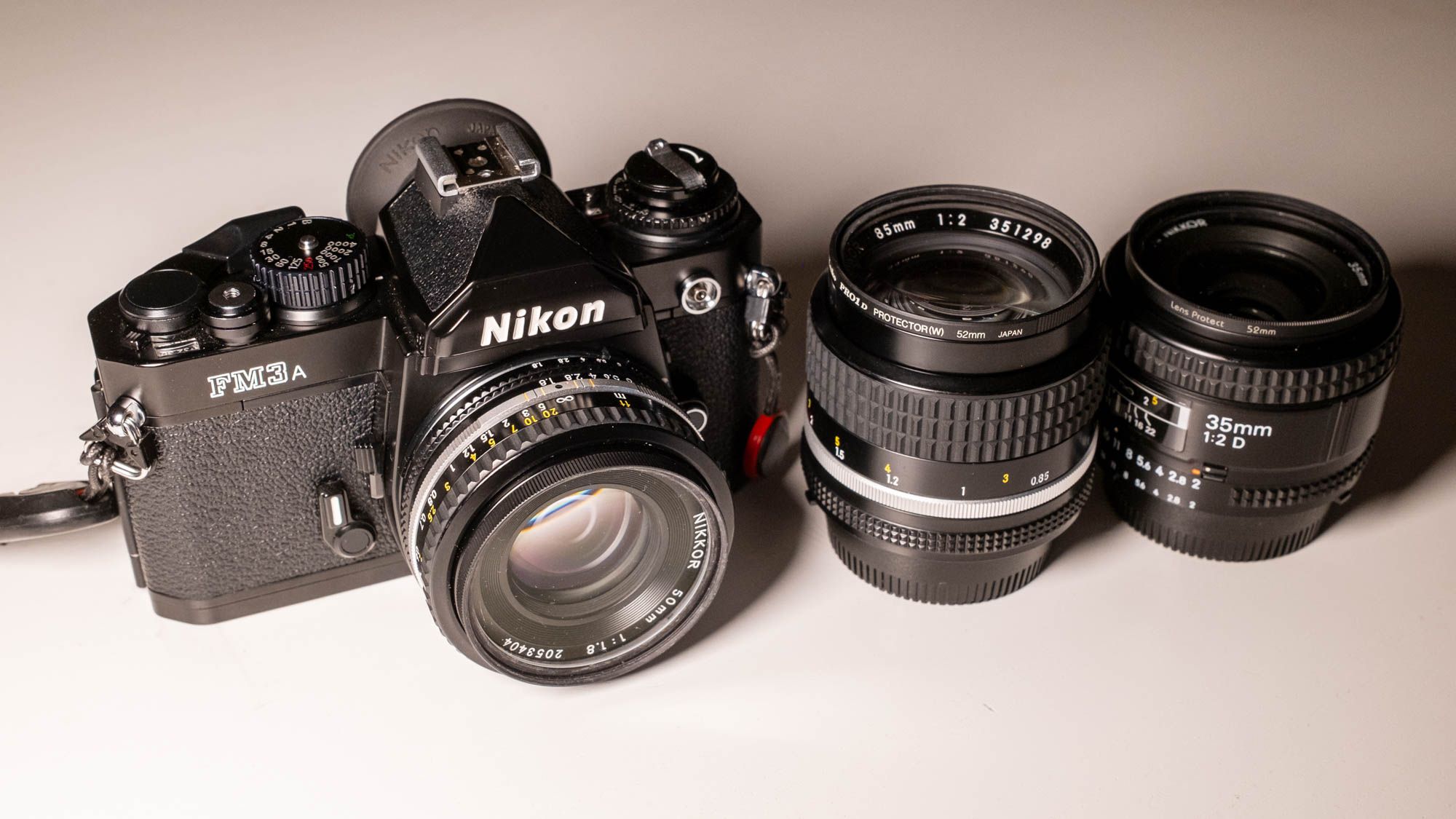 After my experiences in the past, I wondered, "Could I actually shoot photos, in focus and properly exposed, with a film camera?" The answer from my first roll of film was a resounding yes. I could shoot sharp images, properly exposed, even on unforgiving slide film.
The first box of slides I got back from the photo lab were great to look at, but revealed a major problem with this endeavor – how do I get these images into my digital workflow? I'm hesitant to spend another $1000 on a macro lens or a film scanner just to take digital pictures of the slides. So I spent $25 on a set of close-up extension tubes instead. That got me some images I could work with.
The second roll of film, I took to a lab that could process the film and scan it for me – on a CD. Remember those? It's been years since any of my computers had a CD, but the lab offered to copy the scans onto a flash memory drive if I would bring one – and I was thrilled they would do that for me. Something about Japanese customer service. 😉
So I got my scans. I opened them up in Adobe Lightroom and… "Hey, these are much smaller than even my iPhone photos." So the quest for good affordable scans continues. Sigh.
I'm not sure where this is all going to lead. But besides making great images, one of the joys of photography is just looking through the viewfinder and pressing the shutter button. You don't even need to have film in the camera. Just the process of taking a picture is a joy. And that is one thing I'm really enjoying with this camera, looking through the viewfinder and pushing the button. With all my cameras, really.
In the meantime, I bought an adapter to use these old manual focus Ai-S Nikkor lenses on my Sony digital body. Ohhh, now this is getting interesting…
More to come. 😀